Line up:
Winterherz – Vocals, Guitars, Mandolin, Electronics
Thomas Birkmaier – Drums
Dominik Frank – Guitars, Backing Vocals
Markus Frey – Guitars
Avagr – Bass, Backing Vocals
Guests:
Austin Lunn – Finnish Drum
John Becker – Violin
Helge Stang – Guest Vocals on "…Und immer wieder Schnee"
Seuche – Guest Vocals on "Graustufen Novembertage"
Cover by Sahra Wagner. Illustrations by Nate Burns. Design by Lukas Wezel.
Recorded by Waldgeflüster at Schattenschmiede Studios, except for Drums, recorded by Daniel Hofer at Buff Zack Records.
Mixed by Winterherz. Mastered by Ludwig Maier at GKG Mastering
Releasedate:
October 14th 2016, Nordvis and Bindrune Recordings
Format:
CD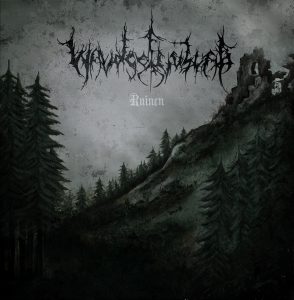 Tracklist:
01. Die Ruine als Schmuck
Die Ruine als Schmuck— Solche, die viele geistige Wandlungen durchmachen, behalten einige Ansichten und Gewohnheiten früherer Zustände bei, welche dann wie ein Stück unerklärlichen Altertums und grauen Mauerwerks in ihr neues Denken und Handeln hineinragen: oft zur Zierde der ganzen Gegend.
English Translation:
Ruin as an ornament—People who pass through numerous mental phases retain certain sentiments and habits of their earlier states, which then project like a piece of inexplicable antiquity and grey stonework into their new thought and action, often to the embellishment of the whole surroundings.
02. Weltenwanderer
Zwei Seelen wohnen ach in meiner Brust
schweben möcht die eine in luftige Höhen dem Äther entgegen
Die Andere verrotten in tiefsten Höllen, staubig und verrußt
Gen welche Heimat soll ich noch streben?
Ich weiß doch auch nicht mehr wohin ich mich noch wenden soll
Jetzt wo die Fundamente bröckeln der einst so stolzen Festung
Ich bin der Fragen so übervoll
immer kämpfen und rackern – für welche Erfüllung?
Will den Geist zu freien Sphären schweben lassen
und doch auf den wohlig prasselnden Herd nicht verzichten
Will ein Leben in tausend ewigen Nächten verprassen
und doch die Geheimnisse einfacher Freuden lichten
Warum spür ich immer diese quälende Zerrissenheit
zwischen all den Welten (Abgründen) die mein Herz ersehnt
Wenn als Antwort auf dein Suchen nur das Echo weiterer Fragen bleibt
erstarrt der Geist von der sengenden Mittagssonne gelähmt
Durch leere Nächte war mein Nordstern, meine Festung stets Geleit
im tiefsten Dickicht, in kargsten Wüsten folgt ich ihrem Ruf
Doch wach ich heute an wilden Feuern in dunkelster Einsamkeit
Spür ich in mir den Zerfall der Festung die ich mir einst schuf
Noch brennt ein kaltes Licht in ihren Fenstern
Ich erblick sie immer noch, dort in hoffnungsvollen Fernen
Doch immer öfter verschlingt der Schein der Stadt meinen Nordstern
immer schwerer fällt es den Schritt nicht hinzulenken zu ihren
lockenden Laternen
Vielleicht ist auch mein Schicksal für immer zu Suchen
alle Widersprüche in mir selbst zu überwinden
Ich will den großen Mittag ein Willkommen zurufen
Und mich selbst als Antwort auf offene Fragen zu finden
Bin angekommen und such doch ständig nach neuen Wegen
Will streben und mir doch das heimische Feuer nicht versagen
Bin Teil eurer Welt und kann doch nicht im hier und jetzt leben
Will frei durch meine Wälder wandern und werd doch jede meiner Lasten tragen
Ich bin der Weltenwanderer
English Translation:
Wanderer of the Worlds
Two souls – alas – are dwelling in my breast
One wants to levitate towards the aether in dizzy heights,
the other one rot in deepest hells, dusty and besooted
Towards which home should I strive still?
I also do not longer know where to go,
now that the fundaments of the proud fortress of old crumble
I am redundant of all the questions;
always fighting and struggling– for what satisfaction?
I want to let levitate the spirit towards free spheres
but not to relinquish the comfortingly crackling fireside
I want to waste a lifetime in a thousand everlasting nights
yet still to clear the secrets of simple pleasures
Why do I always feel this tantalizing disjointedness
amidst all the worlds (and abysms) my heart is craving for?
If only an echo of further questions remains as the answer of your quest,
the spirit rigidifies, paralyzed by the torrid midday sun
My North star, my fortress always was my escort through hollow nights
In densest undergrowth, in bleakest deserts I followed its call
but when I keep guard at wild fires in darkest solitude tonight
I feel the disintegration of the fortress that I once created on my own
A cold light is still shining in its windows
I still lay my eyes on it in distances full of hope
The glare of the city engulfs my North star more and more often,
it is more and more difficult not to direct the steps to its inviting lamps
Maybe it is my fate seeking forever
and to surmount all disaccords in my self
I want to hail the great midday welcome
and to find my self as the answer for eternally pending questions
I arrived yet still I seek for new ways,
I want to strive but not to deny myself the fireside at home
I am part of your world but I cannot live in the here and now
I want to wander freely through my woods and I shall still carry all of my burden
I am the wanderer of the worlds
03. Trümmerfestung
Ich sah Sonnen über Seen steigen
Und hört Himmel andächtig, rötlich schweigen
Schleppte meine Lasten auf steinge Berge
Und fand im moos'gen Grund die Wurzeln meiner Werke
Ich folgte trägen Bären auf ihren Pfaden
spürte meine Stimme ob manch' Pracht versagen
Wusch mich rein von altem Gram unverwunden
in kalten Morgenseen unter der wärmend Sonne funkeln
Ich tanzte zum Klang der Götterdämmerung
Riss auf im Rausch die Tore der Festung
Ich ließ tragen von stürmischen Sommerbrisen
klagende Hymnen über tote Wiesen
Ich wartete auf Wolken bronzen schimmernd
Erinnerungen in Wunden, Rissen flimmernd
Verbrachte ewige Nächte auf fremden Veranden
die einst fremde Seelen auf ewig verbanden
Erinnerungen die einen Geist auf ewig prägten
Die ein scheinbares Ziel gaben auf seinen Wegen
In ihrem Licht schien der Morgen so klar
Und das Ende so rein, so wahr
Die Herbstblätter fielen sanft
Auf das einsam, öde Land
Hatte diesen tristen Pfad doch selbst erwählt
Und war immerzu von einem grimmen Willen beseelt
Doch jetzt wo ich schon über tausend' knoch'ge Wurzeln fiel
und fror in tausend Stürmen mächtig Kräftespiel
scheint mein Zweck plötzlich in tiefstem Nebel verborgen
Und beherzter Schritt durch quälenden Zweifel verloren
Warum hatte ich einst diesen Pfad betreten
folgte ich nicht nur düsteren Schatten die sich am Waldesrande regten
Ist es Zeit endlich umzukehren
und dem Herz das selbstgewählte Nichts zu verwehren
Ich spüre einst stolze Festungen wanken
Einen Krieger nur noch unsicher durch Herbstwälder schwanken
Von unbekannten Wegen tönt ein fernes Rufen
Ich fühl die Wälder nach neuen Antworten suchen
Soll ich diesen Pfad ins Nichts verlassen
oder weiter ins einsam Unbekannte hasten
Soll ich das geschaff'ne Selbst hinterfragen
oder weiterhin dem allzu Menschlichen entsagen
Jetzt wo alte Festen in Ruinen liegen
und zarte Blüten knospend über verdorrte Äste siegen
fühl ich einst geschriebenes Schicksal zerbröckeln in meinen Händen
Wohin, wohin, zu welchen Häfen soll ich mich noch wenden?
Nagende Ungewissheit mein treuer Begleiter
hetzt mich durch meine Wälder immer tiefer, immer weiter
Dabei wollte ich doch immer nur hier verweilen
Einsam und allein vom letzten Schmerz heilen
English Translation:
Fortress of Ruins
I saw suns rise above lakes
and heard skies remain silent devoutly and rubicundly.
I hauled my encumbrances up on stony mountains
and found in mossy soil the roots of my works.
I followed languorous bears on their trails,
felt my voice breaking in view of some magnificence.
I acquitted myselfof old grief not overcome
in cold morning lakes glistening under the warming sun.
I danced to the sound of the twilight of the gods,
ripped open the doors of the fortress in inebriation
I let carry threnodic hymns across dead meadows
by gusty summer breezes.
I waited for bronze gleaming clouds.
Memories glimmering in wounds and gashes.
I spent everlasting nights on strange porches
that connected once strange souls forever.
Memories that shaped a spirit evermore,
thatsetostensiblegoalson its ways.
In their lightthe morning appeared clear
andtheend so pure, so true.
The autumn leaves fellsoftly
onto the deserted barren land
I had chosen this dreary pathmyself
and I always were ensouled with wrathful will.
Now that I toppled over a thousand bonyroots
and froze in the powerfuldynamics of a thousandstorms,
mypurposesuddenlyseems hidden in deepestfog
and spirited stridelost to agonizing doubts.
WhydidIonce takethis path?
Did I not only followsaturnineshadowsthat stir at the edge of the woods?
Is it time to finally turn back
and to deny the heartthe self-imposed nothingness?
I sense once towering fortresses wavering,
awarrior only unsteadily faltering throughautumnal forests.
A far cry resoundsfrom unknown ways,
I feel the woods searching for new answers.
ShouldI leave this path into nothingness
or keep rushing into the solitary unknown?
Should I question the created self
or furthermore renounce the all too humanely?
Now that old strongholds lie in ruins
and soft blossoms prevail budded over withered branches,
I feel once written fate falling apart in my hands.
Where, where?To whichhavens should I turn to?
Naggingincertitude, my loyalcompanion,
chasesmethrough my woods deeper and deeper,
whereasI only wanted to dwell here
Lonely and alone, healing from the last pain.
04. ...Und immer wieder Schnee
Schnee und immer wieder Schnee
Nacht umschlingt
Stille tönt verzweifelnd,
drohend ruht der Wald
Der Mond reißt Wunden in das Schwarz
Und immer wieder Schnee
Hier ist wieder Größe
Macht pulsiert, resoniert
Hier ist wieder Größe
Dieser Moment lebt
erbaut ein Monument der Wirklichkeit
Stille zerreißt dies verklärte Bild des Lebens
Schnee zerfetzt es in seine Nichtigkeit
lässt nur diesen Moment zurück
Schnee und immer wieder Eis, Wald und Wind, erdrückende Nacht
lebe diesen Augenblick
ramme meine erfrorenen Hände
in die verrottenden Blätter unter dem Weiß,
In die erstarrte Erde
Macht pulsiert, resoniert
Zwei Götter vereint, in Freiheit, koexistent, immanent – füreinander
Gebannt, Gegenstand des Gemäldes
Das Bildnis krallt sich in seinen Rahmen,
Hält fest an dieser Reminiszenz
Ich erinnere mich an die Wärme im Schnee
Wenn der Seelenfrost mich wieder ergreift
zehre von diesem Augenblick, von der Stille die mich zerreißt
Zehre und Zehre und Zehre
Bis der Moment verschwimmt
zu einer verstaubten Erinnerung zerfallen
Und die innere Kälte wieder um sich greift
sich in meine Seele krallt, sie lässt nur Leere zurück –
Ich trage Frost im Herzen
English Translation:
…and Snow Again and Again
Snow and snow, again and again
Night entangles
Silence resounds despairingly
the forest rests minaciously
the moon tears wounds into the black
And snow again and again
Grandeur is present here again
Might pulses, resonates
Grandeur is present here again
This moment is alive
building a monument of reality
Silence tears this glorified picture of life apart
snow tears it to shreds in its vanity
only leaves this moment behind
Snow and ice again and again, woods and wind, overwhelming night
Live this moment
ram my frozen hands
into the rotting leaves under the white
into the solidified soil
Might pulses, resonates
Two gods unified in freedom, coexistent, immanent – for each other
Spellbound, object of the painting
The portrait digs its fingers into its frame
clings to this reminiscence
I remember the warmth in the snow
as soul frost embraces me again
feeding on this moment, on the silence that tears me apart
Feeding and feeding and feeding on it
until the moment becomes indistinct
decomposed to a dusted memory
And the inner cold gains ground again
digs its claws into my soul, only leaves emptiness –
I carry frost in my heart.
05. Ruinenfelder
Wohin ich mich auch wende, überall Ruinenfelder
Wie soll ich meinen Weg nur finden, wenn mir Trümmer doch die Sicht versperren
Ich möcht den Blick zu bronzen schimmernd Himmeln richten
Und den Geist zu freien Sphären schweben lassen
Ich falle, ich falle, ich falle…
English Translation:
Fields of Ruins
Wherever I go, fields of ruins everywhere
How am I supposed to find my way if my sight is hindered by debris?
I want to stare upon aeroslyshining skies
and let the spirit levitate towardsfree spheres
I am falling, I am falling, I am falling…
06. Graustufen Novembertage
Schwarze Flügel ziehen gen fremde Himmel
über diese kargen Novemberfelder
ächzendes Geschrei mein einziges Geleit
auf diesem Pfad in die Nacht zu der Ruine die ewig wacht
Ich spüre kein Leben mehr, nur noch schwarz-weiße Trümmerwelten umgeben mich
Sicht verschwimmt, Farbenblind
Ein Taumeln in Graustufen, der Nebel stiehlt mir meine Stimme,
Nacht und Tag, Tag und Nacht, alles tot, alles gleich
Und an Graustufen-Novembertagen,
farblos, leer, Welt verschlissen
Ist es schwer des Abgrunds Blick zu ertragen
Und in klebrig-weißen Nebelwelten
einsam, kalt, Herz zerrissen,
Echo der Träume, die an des Daseins Riff zerschellten
Schleichend lenkte einst die Nacht meine Schritte
Hin zu ihr, weg vom Dasein, weg vom Leben, weg von mir
Tiefer und Tiefer lockten mich des Abgrunds Blicke
Fragen mit Donnerhall, unerträglich, freier Fall
Besessen von Allem, besessen vom Nichts,
Schwarze Löcher beißen sich in meine rissige Haut
verwitterte Patina, im Muster verdorrter Herbstblätter,
In den nassen Lachen verrotten Erinnerungen
Ein Taumeln in Graustufen, der Nebel stiehlt mir meine Stimme
Nacht und Tag, Tag und Nacht, alles tot, alles gleich
Und an Graustufen-Novembertagen,
farblos, leer, Welt verschlissen
Ist es schwer des Abgrunds Blick zu ertragen
Und in klebrig-weißen Nebelwelten
einsam, kalt, Herz zerrissen,
Echo der Träume, die an des Daseins Riff zerschellten
Wenn du in den Spiegel blickst und nicht mehr weißt wer vor dir steht
Du dich nicht mal mehr rasieren willst, weil du dir zuwider bist
Zu viele Zigaretten, Alkohol und was sonst noch so die Leere füllt
Und doch bleibt nur das Nichts zurück
Ich will weg, weg, nur fort von hier
raus aus diesem Sein
Staub und Asche zu Staub und Asche werden lassen
Ich suche schon seit Jahren nach einem Sinn
fand nur einsame Nebelfelder
Nur grundloses Streben von Anbeginn
und ein blutend Herz wurde kälter
Nur Abgründe wohin ich auch blick
mein Werk ein einziges Fragen
vielleicht liegt darin auch der Weg zum Glück
ertrinken in Graustufen November Tagen
Oh ihr Armen, die ihr (…) auch so durch und durch ergriffen seyd vom Nichts, das über uns waltet, so gründlich einseht, daß wir geboren werden für Nichts, daß wir lieben ein Nichts, glauben an's Nichts, uns abarbeiten für Nichts, um mälig überzugehen ins Nichts – was kann ich dafür da? euch die Knie brechen wenn ihr's ernstlich bedenkt? (…) Wenn ich hinsehe in's Leben, was ist das letzte von allem? Nichts. Wenn ich aufsteige im Geiste, was ist das Höchste von allem? Nichts.
(Friedrich Hölderlin – Hyperion)
English Translation
Grayscale-November days
Black wings track towards unfamiliar skies
over these barren fields of November
Groaning screeching my only companion
on this path into the night to the ruin that eternally keeps watch
I feel no life anymore, I am only surrounded by worlds of devastation in black and white.
Vision becomes indistinct, colorblind.
A staggering in grayscale, the fog steals my voice
night and day, day and night, everything dead, everything indifferent
And on Grayscale-November days –
colorless, empty, world-worn –
it is hard to bear the stare of the abyss
And in sticky white worlds of brume –
solitary, cold, heart-broken –
echo of dreams which shattered on the reef of being
The night directed once my steps clandestinely
into it: off from being, off from life, off from me
The stares of the abyss lured deeper and deeper,
questions with thunder, unbearable, free fall
Possessed by everything, obsessed by nothing,
black holes bite my chapped skin
Weathered patina in the pattern of withered autumn leaves,
memories rot in the wet puddles.
A staggering in grayscale, the fog steals my voice,
night and day, day and night, everything dead, everything indifferent
And on Grayscale-November days –
colorless, empty, world-worn –
it is hard to bear the stare of the abyss.
And in sticky white worlds of brume –
solitary, cold, heart-broken –
echo of dreams which shattered on the reef of being
When you look into the mirror and you do not know who is standing there in front of you,
when you do not want to shave because you are repulsive to yourself…
too many cigarettes, alcohol and what else fills the void
yet still only nothingness remains
I want to get away, away, only away from here,
away from this existence
Let dust and ashes become dust and ashes
For years I search for meaning,
only found solitary fields of fog
Only senseless striving from the beginning
and a bleeding heart got colder
Abysses wherever I look,
my work is just questioning
Maybe the path of fortune lies therein
Drowning in grayscale days in November
Oh, you wretches who feel all this, who, even as I (…) are so utterly in the clutch of the Nothing that governs us, so profoundly aware that we are born for nothing, that we love nothing, believe in nothing, work ourselves to death for nothing only that little by little we may pass over into nothing – how can I help it if your knees collapse when you think of it seriously? (…) When I look at life, what is last of all? Nothing. When I arise in spirit, what is highest of all? Nothing.
(Friedrich Hölderlin – Hyperion)
07. Aschephönix
Strebe den Himmeln entgegen
Kämpfe dich aus Lehm
Lass dir mächtige Schwingen wachsen
Erhebe dich aus deinem Urschlamm
Ich formte mich aus Verzweiflung
versuchte dem Gefäß schweren, roten Wein zu schenken
um die Leere zu füllen
Bis das blutend Herz überquoll
Sooft der Krug auch zerbrach
las ich seine Scherben auf am Waldesrand
brannte ihn erneut mit Spucke und mit Asche
labte mich am Quell der Sehnsucht
Was wenn die Scherben nicht mehr halten wollen –
Ist es Zeit für mich zu gehen?
Was wenn die Träume zwischen den Fingern verrinnen –
Ist es Zeit sie im kalten Boden versickern zu lassen?
Ich hab so lang gerungen
Und bin doch des Kämpfens müde
Will nur noch darniederliegen und von den toten Tagen träumen
in denen der schwere Wein noch erfrischend die Kehle hinunterfloss
Aschephönix – tausendmal neu geboren
Aschephönix – gen unbekannte Himmel geflogen
Aschephönix – tausendmal neu begonnen
Aschephönix – Doch immer in den Feuern gestorben
Aschephönix – brich dir deine Flügel
Aschephönix – kämpf dich nicht mehr aus dem Ei
Aschephönix – verglüh in deiner Asche
Aschephönix – lass ziehen all das Streben
English Translation
Ashphoenix
Strive towards the skies
Force your way out of clay
Let mighty wings grow
Rise from yourprimeval mud
I shaped myself from desperation
I tried pouring heavy red wine into the vessel
to fill the void
until the bleeding heart overflowed
As often as thejugbroke apart
I picked up its shards at the edge of the forest
baked it anew with saliva and with cinder
feasted on the source ofyearning
What if the shards do not stick together anymore?
Is it time for me to leave?
What if the dreams trickle away between the fingers?
Is it time to let themdrain away in cold soil?
I have struggled for so long
but I am tired of fighting
I only want to lie down and dream of the dead days
as the heavy wine flowed refreshingly down the throat
Ashphoenix–newly born a thousand times
Ashphoenix–flown towards unknown skies
Ashphoenix–newly begun a thousand times
Ashphoenix–but always died in the fires
Ashphoenix–break your wings
Ashphoenix–stop forcing your way out of the egg
Ashphoenix–burn upin your ashes
Ashphoenix–let all the striving go

08. Susitaival